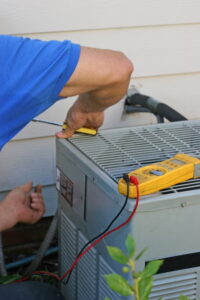 The start of the fall season is on its way, but that doesn't mean the heat is leaving anytime soon. What's more, even if it does cool off, we know that heat waves have a tendency to pop up out of seemingly nowhere. That's why, even if you might not be using your AC for too much longer, you'll want to keep it in good shape as best you can.
Keeping your air conditioner working properly is something we can help you with. Specifically, we're here to help ensure that your AC is going to be able to keep running even after it hits a bump in the road. If you start to notice your AC struggling, reach out for air conditioner repairs in Redding, CA for any of the following problems.
We Can Help With These Repair Needs
If you notice the signs of any of these repair needs, you will want to reach out to our team for help.
1. There is debris or ice building up on the evaporator coil
You need your evaporator coil to remain clear as much as possible. This is because any build-on on the coil can lead to a problem with the absorption of heat into your refrigerant and undermine the cooling process. If you start to notice that your air conditioner isn't cooling your home effectively, has started to short cycle, or even is exhibiting a leak of fluid, it may mean that there is a heavy layer of debris or ice collecting on the evaporator coil.
2. The airflow through your system is weaker than before
The airflow that enters and passes through your HVAC system and into your home needs to be strong and steady. If it is weak when it enters the system, you won't get enough cooling. If it is weak when entering your home, the same issue applies. The core difference is the reason behind the weakened airflow. Whether it is a dirty filter, a broken fan blade, a duct leak, or something else, you can count on us to help.
3. There is a potential refrigerant leak in the system
Refrigerant is the transfer medium that is used to pull heat out of your home and cool the air that enters your house. It is easy to understand why a refrigerant leak would be a problem. Watch out for indicators of a refrigerant leak like hissing or bubbling sounds, short cycling, or reduced cooling. These can all indicate a leak that needs to be patched.
Do you need help getting your AC working again? Schedule your repair services today to enjoy up to 25% off your next service. We don't just handle the three repair needs that we addressed in this blog post either. Whatever is going wrong with your air conditioner our team is going to be able to diagnose and repair it.
Contact the experts at Redding Heating & Air to schedule your next repair. Giving You the Comfort of Your Home.